News
Patients who tear their Achilles tendon may be able to bear weight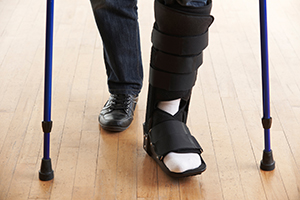 Non-surgical treatment is commonly accepted and used for injury
The Achilles tendon is a strong, large tendon that connects the lower calf muscles to the heel bone. It can withstand a great deal of stress, but the tendon can tear (rupture) if it's overstretched. Though some situations require surgery, non-surgical treatment like dynamic rehabilitation is well accepted and commonly used by many medical professionals for these ruptures. One question that remains to be answered, though, is if these patients should be able to bear weight on their leg and thus stress the Achilles during this rehabilitation process. Some believe it may be harmful, while others claim it is beneficial. To investigate the matter, a powerful study called a randomized-controlled trial was conducted to compare immediate weight-bearing with non-weight bearing in non-surgical treatment for Achilles tendon ruptures.
Patients randomly assigned to one of two groups
Patients who suffered an Achilles tendon rupture were evaluated, and 56 were accepted and randomly assigned to either the weight-bearing or non-weight-bearing group. Both groups received the same eight-week treatment program aside from the ability to bear weight, as the weight-bearing group was allowed full weight bearing from day one, while the other (control) group could not bear weight for the first six weeks of treatment. All patients were given an ankle orthosis to wear for all eight weeks and were instructed to perform 25 repetitions of an exercise during each treatment session. Patients were assessed using a questionnaire with various components over the span of one year.
No significant differences found between groups
After one year, the only significant difference between groups was actually in favor of the weight-bearing group, as they were found to have better health-related quality of life than the control group. Aside from this, the rates for re-rupturing the Achilles, time to return to work and time to return to sports were similar between groups. Based on these findings, it appears safe to recommend immediate weight bearing in the course of dynamic rehabilitation for Achilles tendon rupture. The use of the ankle orthotics may increase the safety of this process, and following this type of approach may lead to a quicker recovery and return to sports for these patients.
-As reported in the September'14 issue of
The Journal of Bone and Joint Surgery
January 13, 2017
See News
Disclaimer:
The information in the articles, posts, and newsfeed is intended for informational and educational purposes only and in no way should be taken to be the provision or practice of physical therapy, medical, or professional healthcare advice or services. The information should not be considered complete or exhaustive and should not be used for diagnostic or treatment purposes without first consulting with your physical therapist, occupational therapist, physician or other healthcare provider. The owners of this website accept no responsibility for the misuse of information contained within this website.